Thanks to modern technology, we are now able to access information and resources from anywhere around the world. Wherever you are starting a new business, you can now benefit from a mind-blowing amount of knowledge and experience.
The only problem is that here is now so much information, it can become difficult to know which to believe/trust. Having helped start-ups for the past 15 years, we have spent a lot of time looking for the best and most appropriate FREE resources to save you the trouble.
If you know of any more, we would love to add them here. Email: andy@syob.net
Free Downloads
The Entrepreneur's BUSINESS START UP GUIDE - A useful guide for those thinking of starting a business. Mike Foster, the Entrepreneurs Mentor (Oxfordshire, UK)
Flying Start - Flying Start is an easy-to-understand downloadable 'how to start a business' guide covering all aspects of starting a business. Flying Start (AUS)
Various Startup Downloads - A great selection of downloadable guides including: Business plan template, One page business plan examples, Marketing Plan template, Cashflow Forecast, SWOT Analysis, PEST Analysis, Competitor Analysis Worksheet, Business Growth Plan Checklist, B2B Terms & ondistions and Website Policies, Non Disclosure Agreement (NDA) template. You do need to fill in your email address and download only 3 at a time. Yorkshire Powerhouse (UK)
How to Start a Business: A Startup Guide for Entrepreneurs [Template] - A library of the best free tools and resources to help you start selling and marketing your business, and a complete guide on how to start a business. The guide covers everything from the paperwork and finances to creating your business plan and growing your business online. Hubspot (US)
10 Steps to Start your Business - Starting a business involves planning, making key financial decisions, and completing a series of legal activities. Scroll through this guide compiled by SBA (US Small Business Administration) learn about each step. SBA (US)
Free Startup Map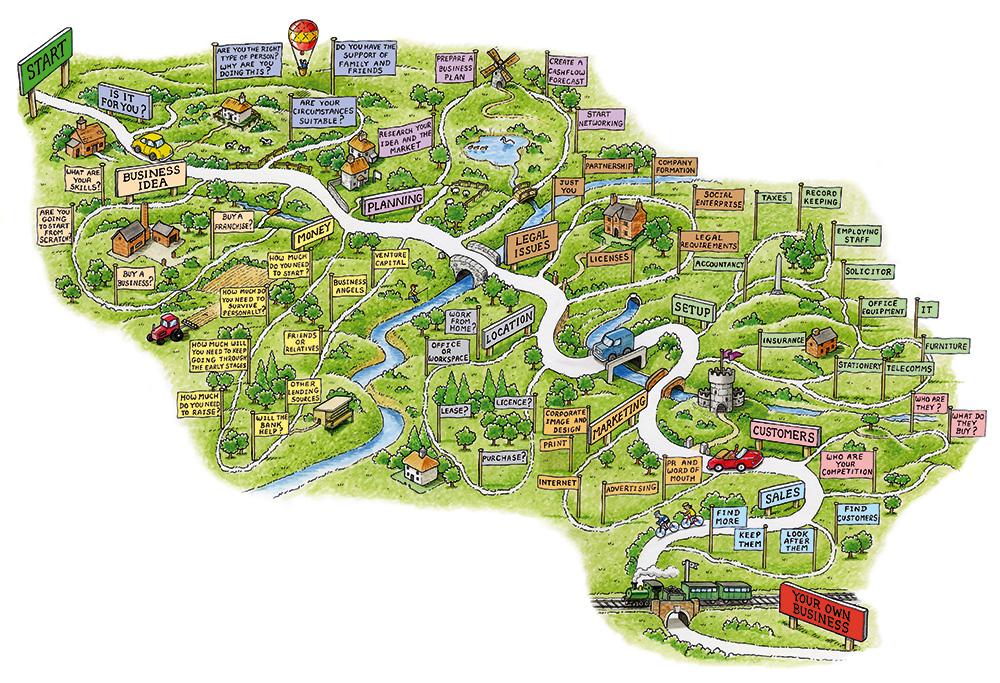 Download our FREE Startup Map
Free Tools
Business Plan Template and Guide - The business plan template used to apply for funding from Startup Loans. British Business Bank (UK)
Business Plan Pack - Useful pack supplied to any young entrepreneur applying for a loan from the Prince's Trust. The Prince's Trust (UK)
Calculate your startup costs - How much money will it take to start your small business? Calculate the startup costs for your small business . SBA (US)
Business Plan Template for a Startup Business - Do you want to increase the odds that your business startup will be a success? Then download this step-by-step business plan template and use it to lay the groundwork for your new business. SCORE (US)
Small Business Start Up Costs - This Excel workbook will help you put together an estimate of costs and funding required to start your business. Vertex 42 (Utah, US)
Break-Even Point Calculator - This Excel workbook will help you put together an estimate of costs and funding required to start your business. SBA (US)
SWOT Analysis Template - Identify your business's Strengths and Weaknesses and Opportunities and Threats. Vertex 42 (Utah, US)
Local Startup-guides
The 2023 Edition is packed with the information that you need to start and grow a business.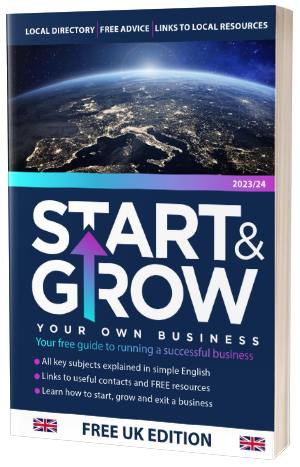 Overview

easy to follow step by step guide



Advice

easy to follow step by step guide



Business planning

are you ready?



Market research

are you ready?



Business set-up

is there a gap in the market?



Premises

work from home or premises?



Finance & funding

your funding options



Accountancy & tax

tax and VAT explained



Business networking

tips and local groups



Getting online

online marketing, social media



Employing staff

how to find and recruit



Law & insurance

the key considerations



Common mistakes

and how to avoid them



Start-up directory

useful contacts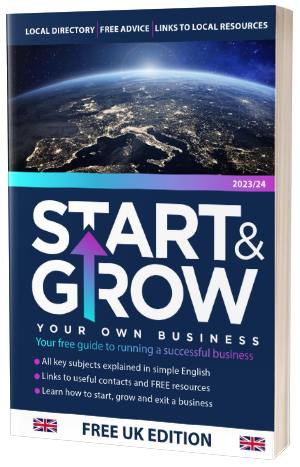 Download Complete Book (Free)
We are sure that you find the contents of this book both useful and interesting. It has been collated with the best of intent but we do also strongly suggest that you take relevant advice before making important decisions. Please do get in touch if you have any ideas as to how we can improve this publication or if you would like to be included in future editions.
Download Your Free Copy
Registration required but this unlocks all resources on the site.
Local Startup Books
We have also created a number of local editions of our popular Start Your Own Business book. These contain all of the core content but this is complimented by local information and contacts.
Add your Business
If you offer a product or service which can help local start-ups and small business owners, we would be delighted to promote the fact (free of charge)
Add your Business