Free Start-Up Pack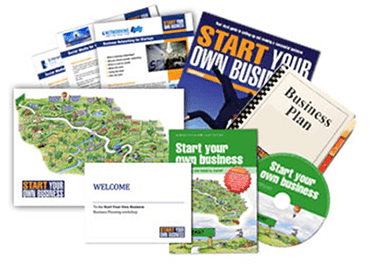 This FREE start-up pack contains everything that you need to get you started.
It is a common trait amongst entrepreneurs to just want to 'get on with it'. However, if you want to maximise your chances of success, it is worth putting in time and effort before you start to ensure that you have set-up correctly.
This collection of resources has been put together to make the process as straight-forward as possible but also to ensure that you do not miss anything important. We hope that you find it useful.
Download Pack
Contents...

This 180 page book is packed with start-up information and resources which we hope will help you start your business as smoothly as possible. It contains chapters on all of the key subjects, hints and tips, useful contacts, and even some stories which we hope will make you smile. You can download the whole book now (free of charge). Printed copies are also available but there is a nominal charge made for postage and packing.

An easy to read, step-by-step guide to setting up your own business. Each step is explained briefly and in plain English. Links to all required documents are included as are simple 'to do' lists at each stage. Perfect for the budding entrepreneur who does not want to get bogged down with theory.

"You don't know what you don't know!" Plot your progress with this 125+ point checklist and make sure that you have considered all the key factors prior to starting your business. There are so many things to think about in the early stages, it is easy to overlook something if you are not careful. We hope that his simple tool will prevent that form happening.

One of the most important steps but one that is often ignored. This document will provide you with a clear road-map for your business and ensure that you have considered all of the key issues prior to starting up. Essential whether you want to borrow money or not.

Worrying about paying your personal bills will distract you from the running of your business. This template will help you to identify how much you need to make each month to cover your outgoings. Use in conjunction with your cashflow forecast to ensure that your projected income/expenditure takes this into account.

An easy to use template, created in Microsoft Excel. Instructions are included - all you have to do is unput your figures and the spreadsheet will perform all of the calculations for you. A great way of assessing the finances of your business over the next 12 months.

Having a great business is no good if nobody knows that it exists. This one page marketing plan template will help you consider how you are going to reach your market. Also contains '200 Guerilla Marketing Tools' - tried and tested ways that you can raise awareness. Many of the suggestions will cost you very little or no money at all! Courtesy of Agile Marketing.

This infographic has proved to be incredibly popular and used to occupy the centre pages of our Start-Up newspapers. Ideal for a visual guide through the start-up process or the larger (A3) version can be printed and used as a poster. (Larger sizes available )

Several years ago, we created a CD based upon the start-up map. You can now download the entire contents and enjoy this interactive experience. Navigate your way through the map and learn about each stage of the start-up 'journey'. (Due to file size this has to be downloaded separately.)

Designed to complement the business plan template, this Powerpoint presentation can be personalised and you are welcome to use it without charge. Ideal for educational and business support organisations.

Factsheets
To support the above we have created a series of factsheets to explain the key subjects in more detail. They are written by experts in each field and in plain language so you will understand the content whether you have run a business before or not.
We are always willing to consider additions to this list. If you have created a factsheet which may help anyone thinking about starting a business, please do get in touch. It must be primarily about the subject and not just an advert for your business However, it can contain a brief description of your services, contact details and a link back to your site.
Other Relevant Factsheets
Networking For Start-Ups
50 Business Tips
75 Start Up Tips
Business checklist
Starting a Business Template
Video Blogging (For Beginners)
Download Pack
(Zip folder which can be opened or saved to your computer. It is 5 MB so may take a few minutes to download).