How to Use Pay-Per-Click to Help Grow Your Startup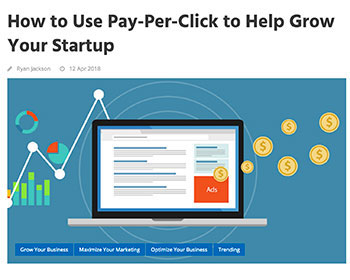 A very useful introduction to pay-per-click advertising. This is ideal if you are keen to quietly find out more without being exposed to a pushy sales pitch.
For some new businesses pay-per-click has been the foundation upon which to build success. For others, it has proved to be a financial disaster.

The truth is that, if permitted, pay-per-click marketing can eat away your reserves in no time at all. The trick is to know how to plan and manage a campaign effectively.

Much as we like to think that we can learn everything we need via the web and do not need to pay a so called expert for help, this is one area where someone with genuine experience and knowledge could be worth their weight in gold.

You can follow the link below to read a well written and simple to understand introduction to the subject. But please do take some advice, if only informally, before investing any of your money into a paid campaign.
READ MORE HERE
Other Articles - Online Marketing