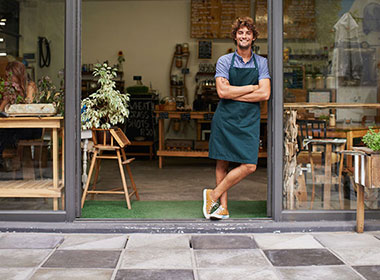 Business Premises? Office? Shop? Industrial Unit? Serviced Offices? Warehouse Unit? Factory? Restaurant? Workshop? Or Start from Home?
Whether you choose to work from home or are looking to rent or buy a business premises, you may like to read our commercial property articles which cover the various options for small business or new business start ups. (We also have a section dedicated to working from home.)
A list of useful contacts in Merseyside who are keen to help you can be found below.
Free Friendly Advice
If you would like some free friendly advice from a trusted local partner (without pressure or obligation), please complete and submit this form.
We assure you that your details will not be used for any other purpose. We hate spam and promise not to bombard you with unwanted correspondence.
Home or Away?
Deciding where to run your business could be determined by the nature of your work, running a restaurant from home is probably not a good idea and a window cleaning business is unlikely to need swanky offices!
Work from home: Working from home is definitely the cheapest option, but not always the best. You will need to ensure that you can separate home and work life. Will you be able to motivate yourself and concentrate, or possibly even more tempting—avoid the temptation to work all the time? Advantages: Cost, convenience, easy to set up, the kettle is close by! Disadvantages: Domestic distractions, possibly lone working, holiday cover, the kettle is close by!
Top tip! Check to make sure that your lease/house deeds do not prevent you from operating from home. If required, obtain permission from your landlord or building society.
Office or workspace? Starting in an office or workshop will involve higher set up costs than working from home but may be more appropriate particularly if you are planning to employ staff or if your customers come to you. There are important health & safety issues that you will need to be aware of if you are planning to work from any premises. The HSE (Health & Safety Executive) offer free explanatory leaflets at http://www.hse.gov.uk
Lease: A lease is a contractual agreement to rent a property. But do you rent or buy? Your financial situation could decide this for you, but if you chose to lease/rent, think extremely carefully about the implications. Lord Forte is famously quoted as saying three most important considerations are LOCATION, LOCATION, LOCATION! However, the better the location the higher the rent!
Length of lease? You may have to pay a substantial premium for a longer-term lease.
Who is responsible for repairs? Take legal advice. You want security, but do you want the legal obligation and for how long? Business success or failure may mean that you need smaller/larger premises in the future. Ask about a 'break clause' which could present an 'escape route' at a defined point.
Purchase: Purchasing your property could prove to be an attractive long-term proposition. You will be giving yourself security of tenure, possibly an asset that will rise in value, and any repayments will be reducing your loan rather than simply paying rent to somebody else. You will need to use a solicitor to conduct the purchase, and definitely pay for a full structural survey.
License: With a license, the property owner is effectively saying "OK, you can occupy my property for a while, but I can interrupt at any time and ask you to leave." The advantage to the owner is obvious, but it can also be a flexible and inexpensive way for a new start to move into premises. Licences are usually relatively short term.
Serviced offices: Working from your garage or garden shed can appear amateur to prospective clients and lack the kudos of an official business address. But there is an alternative that will keep you sane without bankrupting your business before it's even off the ground. Renting a desk i n a shared office offers the best of both worlds. You're still your own boss, but you'll have the business support services, such as internet connection, a receptionist, meeting rooms and technical support, all available on site. You'll have total autonomy, but feel like you are part of a community.
Merseyside Property

If you can help new business start ups or existing small businesses in the Merseyside area, we would love to promote you here free of charge. (Add Your Business)

Whitfield Business Services
http://www.whitfieldservicedoffice.co.uk/
Whitfield Business Centre offers a full range of services to support and help your business to allow you to concentrate on what you do best. From all inclusive serviced offices to virtual office services such as post & telephone management, start-up company registration & set up, websites & IT systems & hourly boardroom hire.