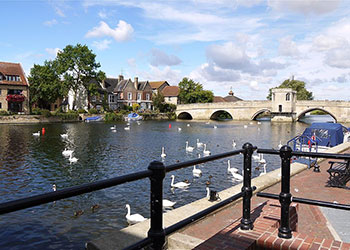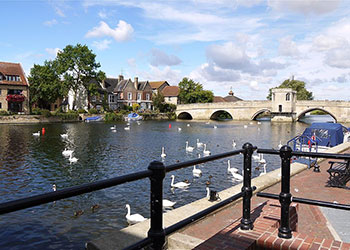 If you are thinking about starting a business in Cambridgeshire or would like to grow your exisiting business, you have come to the right place!
Start Your Own Business in Cambridgeshire contains masses of free resources and the useful information that will help give your venture the best chance of success. It also highlights local organisations who offer friendly business advice and services that you need.
Everything that you will find on the site is free or very low cost and includes our free start-up pack , a series of factsheets which cover all of the key considerations, relevant templates, links to other useful resources and our free downlodable 'Start & Grow Your Business' guide . We have been helping start-ups and exisiting business owners for the past 18 years and in Cambridgeshire since 2005.
Accordingly, we have amassed an enormous amount of relevant useful business information which we are happy to share with you free of charge.
Friendly Advice
We hope that you find the site useful and wish you the very best of luck on your exciting journey. If you are unsure of where to start, we suggest that you get a feel for what is going on locally by having a look at the following pages:
If you offer services that could help local business owners, we would be happy to point them in your direction! Add your details (FREE!) here.
Cambridgeshire Locations Covered
FREE Start-Up Pack
Our FREE start-up pack contains everything that you need to get you started.
It is a common trait amongst entrepreneurs to just want to 'get on with it'. However, if you want to maximise your chances of success, it is worth putting in time and effort before you start to ensure that you have set-up correctly.
Start-up checklist
Step-by-step guide
Business plan template
Personal budget planner
Cashflow forecast template
Marketing plan template
Guide to business networking
Start-up map
Web & SEO Checklist
Start-up map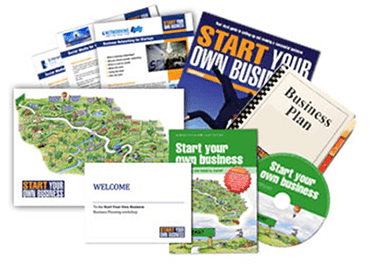 One-time registration required but this unlocks all of the free resources on the site.
FREE Book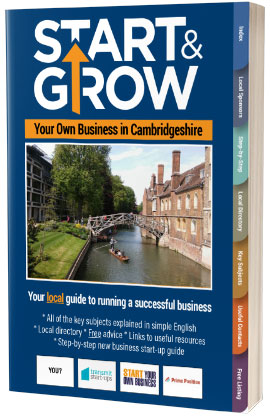 Start & Grow Your Business in Cambridgeshire
This free 140 page book is packed with information and contact details designed to help you start or grow your business successfully.
We have been running SYOB for over 10 years now and have accumulated an enormous amount of information which could make the difference between success or failure.
Starting a business is easy but keeping it going and making a profit is a completely different proposition. The good news is that there are tried and tested 'rules' which have consistently proved to work.
As the old addage says 'you don't know what you don't know'!
Download Now
FREE 'Start & Grow Your Business' Book
This 2020 Edition is packed with the information that you need to start or grow a business in Cambridgeshire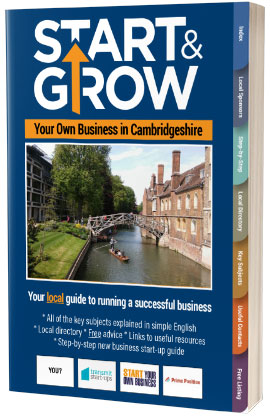 Overview

- easy to follow step by step guide

Advice

- where to find help and support

Business planning

- are you ready?

Market research

- is there a gap in the market?

Business set-up

- choosing the right structure

Premises

- work from home or premises?

Finance & funding

- your funding options

Accountancy & tax

- tax and VAT explained

Business networking

- tips and local groups

Getting online

- online marketing, social media

Employing staff

- how to find and recruit

Law & insurance

- the key considerations

Common mistakes

- and how to avoid them

Business directory

- useful contacts
You can download the whole of this 140 page book now free of charge. We are sure that you will find it both interesting and useful. The 2020 edition is packed with useful hints and tips, relevant, easy to read guides to all of the relevant subjects, real-life examples, and lots of contacts to enable you to get off to the best possible start.
Download Free copy
Start-Up Services
We are keen to see you succeed and can recommend the following...
Cambridgeshire Local Contacts

If you can help new business start ups or existing small businesses in the Cambridgeshire area, we would love to promote you here free of charge. (Add Your Business)
Prime Position Marketing are an online advertising and marketing company whose services are perfect for companies without dedicated marketing personnel and no time to spend on promoting themselves or looking after their websites, but want to get their products and services found online in a cost effective way and successful way.
Digital Marketing * Search Engine Optimisation (SEO) * Pay Per Click * Social Media Marketing * Email Marketing * Content Marketing * Marketing Automation * Website Usability Testing * Analytics and Reporting * Video Production and Animation * Target audience analysis
Providing office support and administration including word processing, business correspondence, database creation and management, spreadsheet design, data analysis, internet research, proof-reading, editing, document formatting, page layout, writing user and training guides and much, much more... NO employee tax, national insurance, holiday pay or sick pay NO recruitment or agency fees NO office space or equipment needed NO long term commitment Just office support when you need it... Freeing up your time to focus on your business while I complete your administrative tasks.
We are not your typical website design agency, we deliver cost effective, professional websites for small businesses, startups and Ecommerce clients across the UK. A multi skilled web design agency based in St. Neots, Cambridgeshire with clients large and small across the UK. We are passionate about what we do and produce websites that deliver results from the start. We offer professional digital marketing solutions to growing companies that exceeds our clients expectations on service and results.
Cambridge has a vibrant and innovative economy and the Cambridge & South Cambs Chamber Committee works hard to ensure that the needs and concerns of SMEs are reflected in the local and regional decision-making processes. Address: Enterprise House,The Vision Park,Histon,Cambridge,CB24 9ZR