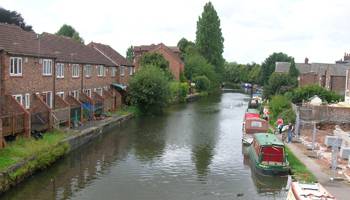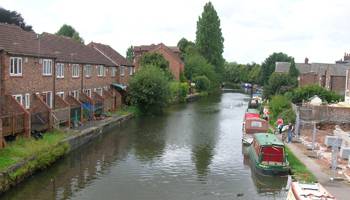 If you are thinking about starting a business in Warrington or would like to grow your exisiting business, you have come to the right place!
Start Your Own Business in Warrington contains masses of free resources and the useful information that will help give your venture the best chance of success. It also highlights local organisations who offer friendly business advice and services that you need.
Everything that you will find on the site is free or very low cost and includes our free start-up pack , a series of factsheets which cover all of the key considerations, relevant templates, links to other useful resources and our free downlodable 'Start & Grow Your Business' guide . We have been helping start-ups and exisiting business owners for the past 18 years and in Warrington since 2005.
Accordingly, we have amassed an enormous amount of relevant useful business information which we are happy to share with you free of charge.
Friendly Advice
We hope that you find the site useful and wish you the very best of luck on your exciting journey. If you are unsure of where to start, we suggest that you get a feel for what is going on locally by having a look at the following pages:
If you offer services that could help local business owners, we would be happy to point them in your direction! Add your details (FREE!) here.
FREE Start-Up Pack
Our FREE start-up pack contains everything that you need to get you started.
It is a common trait amongst entrepreneurs to just want to 'get on with it'. However, if you want to maximise your chances of success, it is worth putting in time and effort before you start to ensure that you have set-up correctly.
Start-up checklist
Step-by-step guide
Business plan template
Personal budget planner
Cashflow forecast template
Marketing plan template
Guide to business networking
Start-up map
Web & SEO Checklist
Start-up map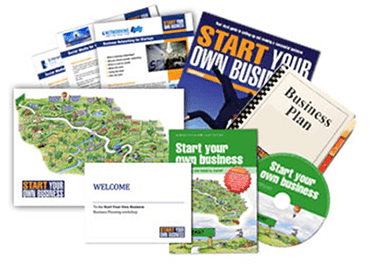 One-time registration required but this unlocks all of the free resources on the site.
FREE Book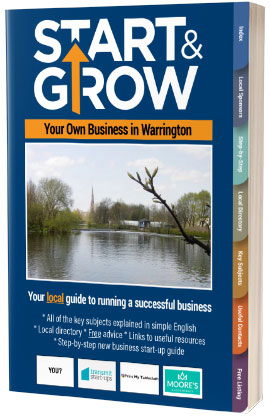 Start & Grow Your Business in Warrington
This free 140 page book is packed with information and contact details designed to help you start or grow your business successfully.
We have been running SYOB for over 10 years now and have accumulated an enormous amount of information which could make the difference between success or failure.
Starting a business is easy but keeping it going and making a profit is a completely different proposition. The good news is that there are tried and tested 'rules' which have consistently proved to work.
As the old addage says 'you don't know what you don't know'!
Download Now
FREE 'Start & Grow Your Business' Book
This 2019 Edition is packed with the information that you need to start or grow a business in Warrington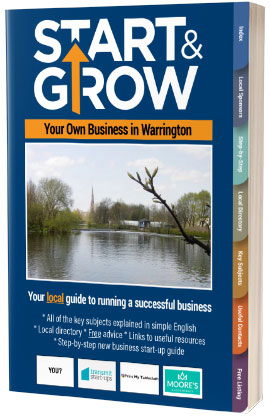 Overview

- easy to follow step by step guide

Advice

- where to find help and support

Business planning

- are you ready?

Market research

- is there a gap in the market?

Business set-up

- choosing the right structure

Premises

- work from home or premises?

Finance & funding

- your funding options

Accountancy & tax

- tax and VAT explained

Business networking

- tips and local groups

Getting online

- online marketing, social media

Employing staff

- how to find and recruit

Law & insurance

- the key considerations

Common mistakes

- and how to avoid them

Business directory

- useful contacts
You can download the whole of this 140 page book now free of charge. We are sure that you will find it both interesting and useful. The 2019 edition is packed with useful hints and tips, relevant, easy to read guides to all of the relevant subjects, real-life examples, and lots of contacts to enable you to get off to the best possible start.
Download Free copy
Start-Up Services
We are keen to see you succeed and can recommend the following...
Warrington Local Contacts

If you can help new business start ups or existing small businesses in the Warrington area, we would love to promote you here free of charge. (Add Your Business)
Moore's Accountancy have been an ongoing concern in Stoke on Trent since 1997 and we pride ourselves in helping small businesses at every stage of their business especially at testing times. We operate nationally but have our core in Staffordshire, serving local SMEs with local knowledge, PLC experience and a value for money approach. We believe that we have to understand the needs of the client before we can supply the solutions. As well as providing traditional compliance services we offer business plan production, cash flow and performance management services. As a small chartered accountants with PLC experience we can respond to your needs. * We will summarize terms and conditions in a letter of engagement, put your expectations in writing and describe and deliver the level of service you require. * We encourage regular Communication so schedule weekly, monthly or quarterly meetings to review your firms performance, helping you to plan for the future. * Give advice and guidance on keeping user-friendly records. * Give a full breakdown of our charges and services. Work is based on a fixed fee quoted in advance.
One to one Sales & Business Coaching and mentoring Cheshire As an experienced Business consultant I offer sound and practical advice and solutions on a range of problems and issues that your business might be facing including sales, staff, start ups, growth plans and strategies, increasing profit, launching and marketing new services or products on line and direct, improving and managing sales teams and negotiating with customers and suppliers to get the best deals.
We are a fabric and exhibition printing company specialising in all large format printing for your event or trade show. This includes printed tablecloths, roller banners, fabric exhibition stands, fabric banners, pop up exhibition stands, and so much more. We also specialise in large format embroidery, great for displays, award ceremonies and presentation evenings.
As a Chartered Management Account and Professional Business Advisor with experience working in small and medium sized organisations I understand the challenges that SME owners face in todays fast moving economy. SME owners are generally time-poor and unable to divert the necessary resource to improving the performance of their business. I provide a solution to that problem. I work with organisations on removing barriers to growth. Together we look at high level but vital aspects of the business. We use a particular approach, identify issues, make a plan and tackle the issues. There has been a fantastic success rate in the assignments approached in this way, all have seen improved results and most have grown their turnover significantly. I am also Xero Certified and a registered growth coach for The Business Growth Service so am able to support with access to grant and funding available to small businesses.
The chamber keeps your business informed about local business news through mediums such as e-newsletter, magazine, mails shots and the chambers community. The chamber staff are also able to answer your query or point you in the right direction. Address: South Cheshire Chamber of Commerce & Industry, Lyme Building, Westmere Drive, Crewe Business Park, Crewe, CW1 6ZD