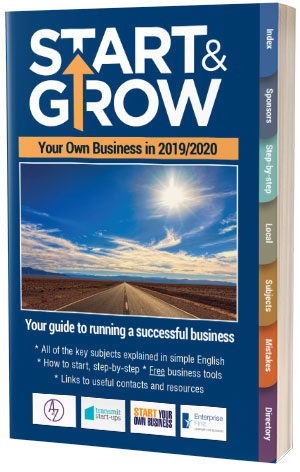 This 2020 Edition is packed with the information that you need to start or grow a business in East Renfrewshire
Overview

- easy to follow step by step guide

Advice

- where to find help and support

Business planning

- are you ready?

Market research

- is there a gap in the market?

Business set-up

- choosing the right structure

Premises

- work from home or premises?

Finance & funding

- your funding options

Accountancy & tax

- tax and VAT explained

Business networking

- tips and local groups

Getting online

- online marketing, social media

Employing staff

- how to find and recruit

Law & insurance

- the key considerations

Common mistakes

- and how to avoid them

Start-up directory

- useful contacts
Download Complete Book (Free)
You can download the whole of this 150 page book now free of charge. We are sure that you will find it both interesting and useful. The 2019 edition is packed with useful hints and tips, relevant, easy to read guides to all of the relevant subjects, real-life examples, and lots of contacts to enable you to get off to the best possible start.
Sponsors Wanted - from only £10 per YEAR
Exclusive opportunity which would give you maximum coverage including:
Your logo on the front of the guide (subject to availability)
An advert in the sponsors' section of the guide
A full page advertorial
Guaranteed top listing in the relevant classification both in the guide and on the site
Your logo and live link on every local page of the site
Exclusivity (only one per classification)
Your listing will appear immediately and will prevent your competitors from taking the slot
To find out more, without any pressure or obligation, please contact Andy Pringle on 07817 065694 or by e-mail at: andy@syob.net
Free Listing
Alternatively, we would be delighted to offer you a free listing both in your local guide and on the relevant section(s) of the site.
This can include, your name, logo or photo, contact details (including a link back to your own website), and up to 50 words of text. There are no catches or obligations and there is nothing to pay, ever.
Add your Business