Business Start Up Show - Coming Soon!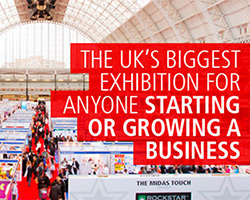 Europe's leading event for starting or expanding a business takes place on 16th and 17th May at Excel, London.
The Business Startup Show is a free exhibition for anyone thinking about launching or growing a business. Running as part of The Business Show, the exhibition provides any ambitious entrepreneur with all the knowledge they need to start a successful and profitable company.

Boasting a world-class lineup of seminars, suppliers and masterclasses that are all geared towards providing guidance to entrepreneurs - this show is a gold mine of information when it comes to getting a business off the ground.
READ MORE HERE
Other Articles - Start-ups